Having your child enter kindergarten can bring about many emotions. Whether this is your first  child, your last, or somewhere in between, it is common to have some apprehension about what the school year will hold. This is especially true if your child has additional support needs, such as a diagnosis of Autism. You might be worried about how your child will manage in a classroom, what types of support they might receive, and how you can be a part of the planning process. In this post, we will focus on the planning stages prior to kindergarten entry in September to help you know what to expect. Although school starts in September, there are many things you can do to prepare yourself and your child for this exciting transition.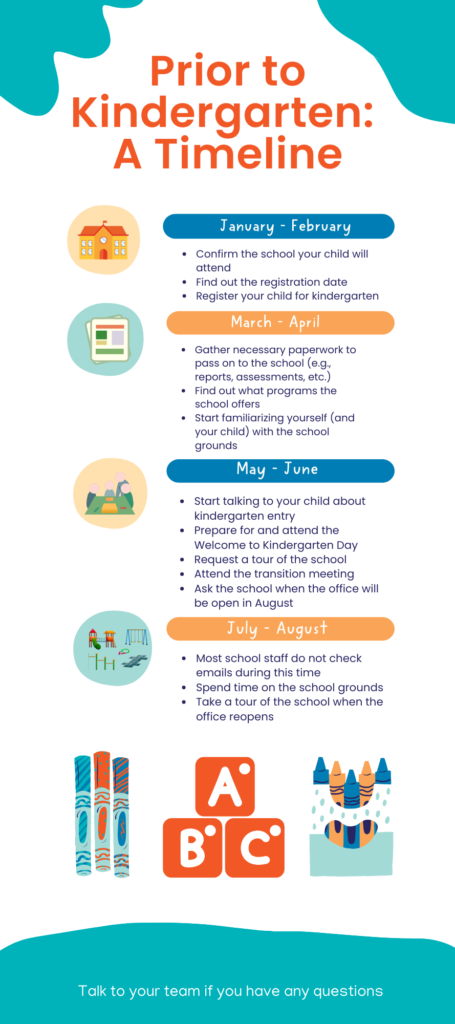 Step 1: Pre-planning
Choosing when to start
Just because your child is approaching kindergarten age, doesn't mean you need to transition right away. Some families choose to defer their child's start date to provide an additional year of individualized support, or to attend partial days instead of full days. Some reasons for deferring include concerns around kindergarten readiness, or wanting to make the most of the available autism funding in British Columbia before your child turns 6. Attending partial days can also help you manage other therapy services, for instance by sending your child to school in the morning and then picking them up early to attend therapy services in the afternoon. You may want to talk with the school and your home team to gather more information and determine if this may be a good fit for your child and family. Some schools may still require that you register your child even if they won't be attending later that year. We will talk about this more in our next post, but in the mean time, speak with your child's team if you're interested in deferring entry to kindergarten or attending school on a modified schedule.
Choosing a School
As a parent, you have the choice of what school you want your child to attend. Some parents choose public schools, while others may choose a private or independent school, a specialty school, or a distance learning school.
Public – public schools are available to all students and are free to attend. You may need to look up the school in your catchment area. This can typically be found on your school district's website. The school that's the closest distance to your house isn't always the school that is in your catchment area.
Private or Independent – private or independent schools typically have an application process and a monthly fee to attend. They are either specialty schools (see below) or are often affiliated with a specific religion. You will need to discuss your needs with the school to determine if it's a good fit for your child and if they will be accepted.
Specialty – specialty schools are considered to be independent or private schools, but they are not religion-based. Similar to other private or independent schools, there is an application and intake process and monthly fees associated with attending. There are two autism specific schools in the lower mainland: PALS Autism School and Fawkes Learning Academy. Other specialty schools might include those for individuals who are deaf and hard of hearing, blind, or gifted.
Homeschool/Distance Learning – distance learning options can be found in the public and independent school systems. For public schools, you would need to contact their home learning/distance education teacher to inquire about more information. Independent schools who have home learning or distance education programs require an application and have limits on how many individuals with support needs they are able to accommodate. It's best to talk to your team if this is an option you may be considering as they can help you navigate your unique situation.
Step 2 – Enrolling Your Child
Registration
Once you've chosen a school, the next step is to find out when the kindergarten registration date is. This usually takes place near the end of January or early February in the year your child will begin attending kindergarten.
Documentation
The school may require you to provide documentation, such as your child's autism diagnostic report, to determine eligibility for support services upon kindergarten entry. Some schools may also request copies of other relevant reports, such as a behaviour intervention plan, speech-language assessment and/or occupational therapy report.
Step 3 – Transition Activities
Welcome to Kindergarten Day
Most schools plan a day in May or June for future kindergarten students to attend the school for a few hours. The purpose of this is for the students to see the school and for the teachers to have an initial introduction to their future students. If you're concerned about how your child may do on a day like this, talk to the school team about an alternative option such as arriving before or after the other students, attending for a shorter time, or planning to come another time on their own. Some schools will ask parents to stay with their children during this time, and other schools may have an info session for parents while their children are in the classroom.
Transition Meeting
For children that have a diagnosis, the school may plan for a transition meeting in order to introduce you to the school support team and begin to plan for your child's transition to kindergarten. If the school does plan a meeting, it would likely occur in May or June. You can ask someone from your current support team to attend with you, ask them to provide additional information such as a summary of current goals and interventions, and/or help you prepare for the meeting. During this meeting, talk to the school about your expertise: your child! You know how best to prepare your child for the transition, and can share your wishes, desires, and concerns with the school team. For instance, you may choose to do an extended gradual entry with your child, to slowly increase the amount of time they are spending in the classroom, or, you may wish to have your child leave school early on some days to accommodate other therapy activities.
Other activities
Once you are in touch with your new school team, there are other transition activities that may be helpful for you or your child.
You may want to request a tour of the school for you and your child to attend in August, as well as the possibility of your child seeing where their classroom might be.
You may also have the option for your child to meet their future teacher.
The school and home team may be able to collaborate on preparing a picture book, some visual supports or a social narrative to further prepare your child for what to expect.
You may want to talk to the school about the kindergarten gradual entry process in September and come up with a plan if needed for your child to have a longer gradual entry process.
You may want to speak to the school team about the option of having your home team observe your child in their class and provide consultation. Each school has their own way of working with home teams and it will be important to ask what their collaboration process is.
In our next posts, we will talk about kindergarten readiness considerations, and what you can expect once your child starts kindergarten, including gradual entry, how school supports are coordinated, and your child's Individualized Education Plan (IEP). You can also connect with other local organizations, such as the Autism Support Network, who have accumulated a wealth of resources regarding advocacy for appropriate education for children on the spectrum. 
Let us know in the comments below if there is more about the kindergarten transition that you are interested in!